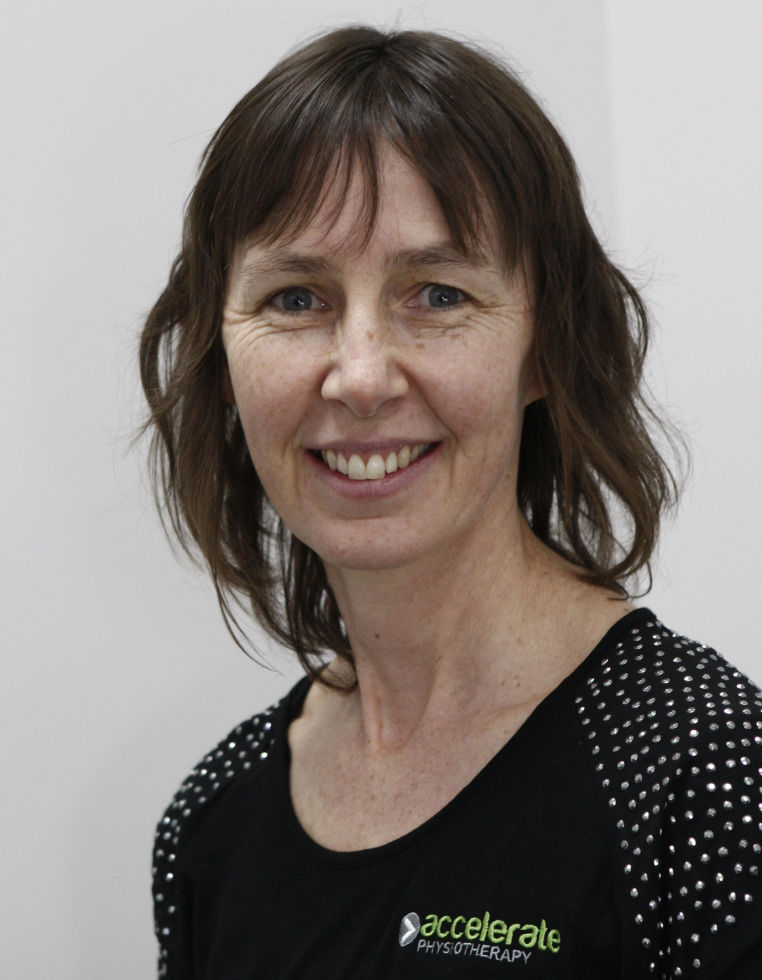 Dip Physiotherapy 1992
Dip Manipulative Therapy 1998
Andrea has now been practicing as a physiotherapist for more than 27 years and really enjoys physiotherapy as a profession. She is one of the four co-directors of the company, which has helped ease her workload. She now has loads of experience in many aspects of physiotherapy and enjoys working with clients to meet their goals. Her special interests are dizziness/vertigo problems, physiotherapy post serious injury including head and spinal cord injury. Andrea is available on Mondays 9am-5pm, Tuesdays 9am-6pm, Wednesdays 9am-5pm, Thursdays 9am-6pm, and Fridays 9am-2pm.
An avid runner, Andrea was the 2001 winner of the Kepler Challenge women's event and has trained and competed for numerous running events over the years. These days however, most of her running is done keeping up with her two children rather than for any specific event!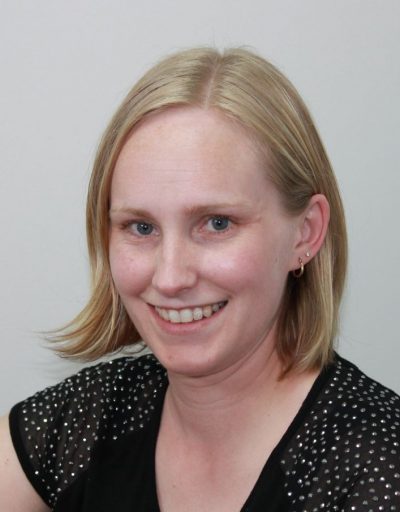 BPhty (credit)
2005PGCertPhty (endorsed in Acupuncture) 2009
PGCert in Health Sciences endorsed in Rehabilitation 2019
Andrea is one of the Directors of Accelerate Physiotherapy and she has 14 years' experience as a Physiotherapist. Over this time, she has worked in private practice as well as in an occupational health rehabilitation setting. Andrea has worked with a number of premier and representative rugby teams, plus elite athletes in a number of sports, and has a keen interest in treating and rehabilitating each person back to their sport. Andrea has gained a high level of experience in completing workplace assessments and developing return to work plans to assist with a safe and appropriate return to the workforce following injury.
Andrea has a special interest in concussion and neurological rehabilitation as well as treating issues with dizziness/vertigo. She has recently completed her Post Graduate Certificate in Rehabilitation which incorporated further study on vocational rehabilitation and neurological rehabilitation.
Andrea has completed her Polestar Pilates training and enjoys taking some of our Pilates mat and equipment classes. Andrea is available on Mondays 8:30am-3pm, Tuesdays 8:30am-3pm, Wednesdays 8:30am-3pm, Thursdays 8:30am-3pm, and Fridays 9am-2pm.
Outside of work, Andrea is kept busy with her two children Cooper and Paige.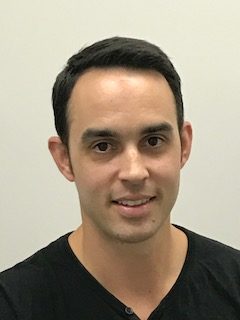 Bachelor of Exercise Science 2007
Bachelor of Physiotherapy 2009
Joel has recently been appointed a Director of Accelerate Physiotherapy and has been practicing physiotherapy since 2009, after graduating his double degree in Physiotherapy and Exercise Science from Griffith University in Australia. Prior to moving to New Zealand in 2011, Joel was involved in the health industry working in private practice as a Physiotherapist and an Exercise Scientist at several local gyms.
Since moving to New Zealand Joel has been involved in both the public and private Physiotherapy services and has gained a good grasp on the New Zealand health service. Joel's key interest are sporting based with a focus on general sports-related rehabilitation and prevention, but more specifically running biomechanics focusing on technique and efficiency, cycling and multisport-related injuries. He enjoys treating knees and ankles and likes working with athletes from a strengthening and conditioning perspective.
Joel's future aspirations with respect to his career involve furthering his knowledge via postgraduate training in human nutrition, as this will complement his skill-set regarding exercise science and prescription, injury prevention and rehabilitation and assist in providing his current holistic health-centred care. Joel is available in the town clinic on Mondays 9am-7pm & Wednesdays 9am,-7pm, Tuesdays & Thursdays 9am-5pm and Fridays 9am-12pm.
Outside of work Joel enjoys keeping fit with gym based training, running and cycling and is a keen hunter. His favourite out of work activity is spending time with his family and getting ready for the first full weekend in May every year.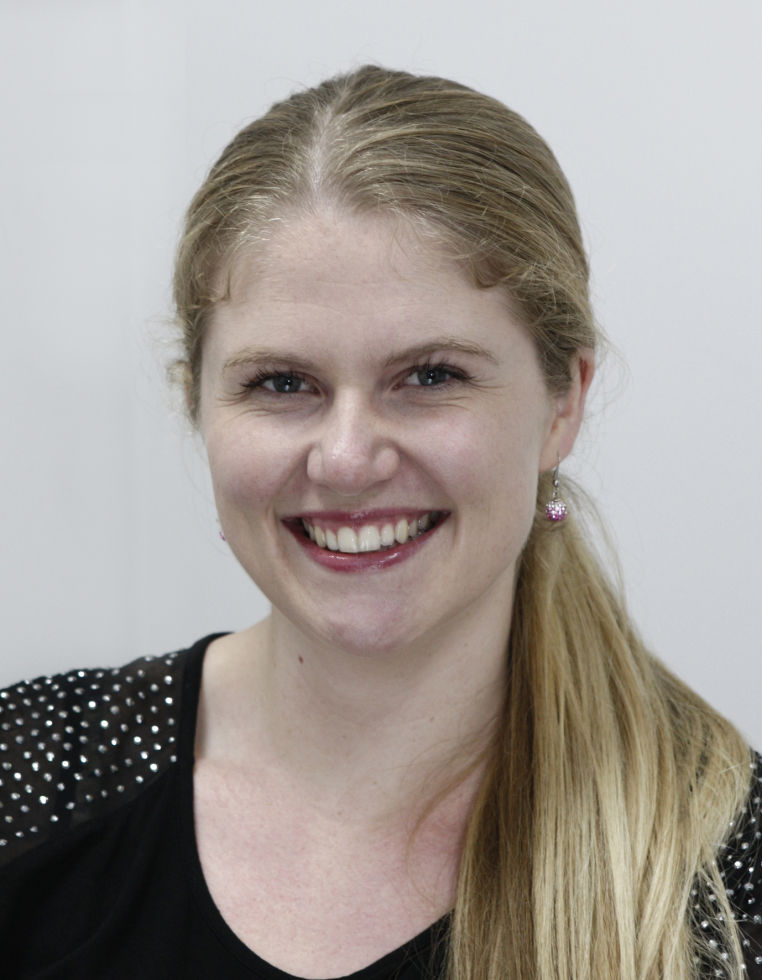 Bachelor of Physiotherapy 2010
Certified Pilates Instructor 2012
Originally from Glenorchy, Lucy graduated in 2010 with a Bachelor of Physiotherapy and gained her first clinical experience in Christchurch before taking up this role with Accelerate Physiotherapy in Invercargill. While expanding her clinical experience over the past few years, she has continued her professional development by becoming a Pilates instructor and furthering her knowledge and treatment of the neck and shoulder area. She has a particular interest in neurological assessment and treatment and currently runs an exercise programme for the MS Society. Sporting injuries is a large component of her work and she relishes the challenge in treating all sorts of sporting injuries.
Lucy enjoyed a Rotary Youth Leadership Course and was selected to be a representative at the Rotary Global Peace Forum in Hiroshima, Japan which was a fantastic experience. Lucy is available on Mondays 1pm-6:30pm, Tuesdays 9am-5pm, and Thursdays 9am-5pm.
Fitness is important to Lucy and she enjoys netball, volleyball and going to the gym. Lucy is currently enjoying her new role as a mum to Alfie, who was born in June.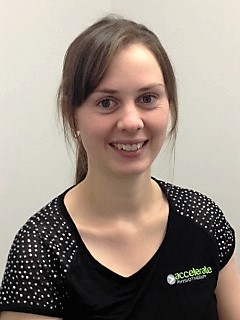 Bachelor of Physiotherapy 2014
Tessa has been a qualified physiotherapist since 2014. After gaining initial clinical experience in the public health system, Tessa joined the Accelerate Physiotherapy team in 2015. Tessa has experience working with clients with a variety of musculoskeletal conditions. She enjoys educating her clients in the management of their condition as well as providing the best evidence based treatment. As well as her physiotherapy role, you will also see Tessa in our reception area in the afternoons where she can assist in booking your appointments and answering any queries. Outside of work, Tessa enjoys spending time with her family.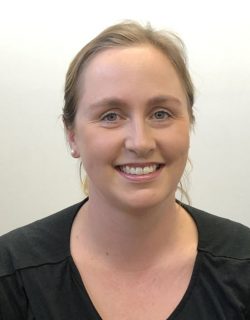 Bachelor of Physiotherapy 2009
Originally from Invercargill, Nicole graduated from Otago University with her Physiotherapy degree in 2009 and has gone on to work in a busy private practise in Australia for the last 9 years.
With experience working with a wide variety of musculoskeletal conditions and a passion for providing the latest evidence based treatments, Nicole particularly enjoys passing this knowledge onto patients so they are able to understand and manage their condition on their own. She believes education is key in helping patients understand their condition and empowering them to the best recovery. Nicole's particular areas of interests include chronic conditions, occupational health, and she has a real enthusiasm for exercise based rehabilitation. Continuously looking to improve and broaden her mindset, Nicole has worked in industrial occupational health with Queensland coal miners and completed courses in pain, women's health and paediatric physiotherapy. Nicole is available on Tuesdays 8:30am-4:30pm, Wednesdays 9:30am-7pm, and Thursdays 8:30am-4:30pm.
Outside of work, Nicole is a mum to two wee ones – Lucy and James. A keen mountain biker and snowboarder, she is also looking forward to getting up the mountains now that she is back living near the ski fields.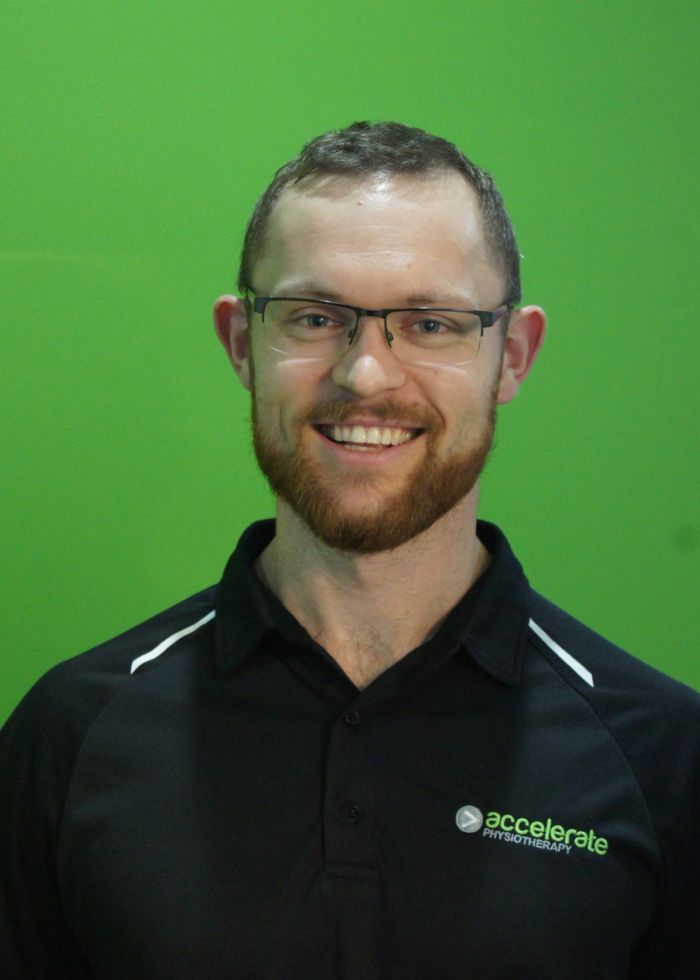 Bachelor of Science Physiotherapy – 2013
NZ Certificate in Avalanche Risk Management (Level 5) – 2020
Born and raised in Southland, Hamish moved to Western Australia in 2008 to complete his Undergraduate degree in Physiotherapy at Curtin University. He then went on to work in a busy private practise south of Perth WA, gaining valuable experience in a wide variety of orthopaedic, musculoskeletal and sports physiotherapy cases.
Clinically Hamish has a keen interest in sports injury management and prevention, acute injury management, chronic pain management and orthopaedic pre-operative and postoperative rehabilitation. Hamish strives to provide the most up to date evidence-based management to all his clients.
Hamish is a keen outdoorsman spending most weekends in the mountains tramping, climbing and kayaking. He also spends his winters working in the ski industry carrying out avalanche safety & ski patrol work – dealing with a wide variety of acute injuries. Hamish maintains a high level of physical health which he aspires to help his clients also achieve; so it is not uncommon to find him in the gym or running around the various Southland trails training for events such as the Kepler Challenge. Hamish is available on Tuesdays & Thursdays 9am-4:00pm at our Tuatapere Clinic and Wednesdays & Fridays 8:30am-5.30pm.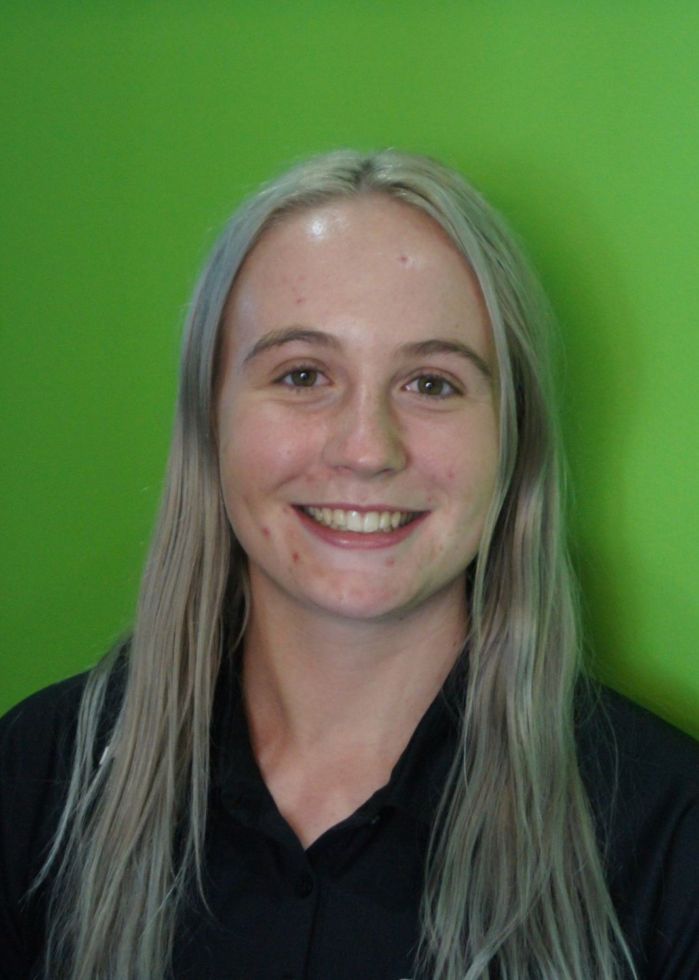 Bachelor of Physiotherapy with Credit (2020)
Poppy grew up on Stewart Island and has since moved to Invercargill after graduating from Otago University with a Bachelor of Physiotherapy in 2020. She decided to study physiotherapy at university due to having an interest in human anatomy and ways to help someone recover from an injury as quickly as possible. She is also interested in injury prevention.
Poppy's areas of clinical experience include placements in hospital and private practice settings as a student. Due to being a recent graduate, Poppy has some of the most up to date evidence-based knowledge which she incorporates into her daily practice.
Outside of work Poppy enjoys spending time with family and friends, running, and going to the gym. Poppy is available Monday 10:00am to 7:00pm; Tuesday, Thursday, and Friday 8:30am to 5:30pm, and Wednesday 8:00am to 12:00pm and 3:00pm to 7:00pm.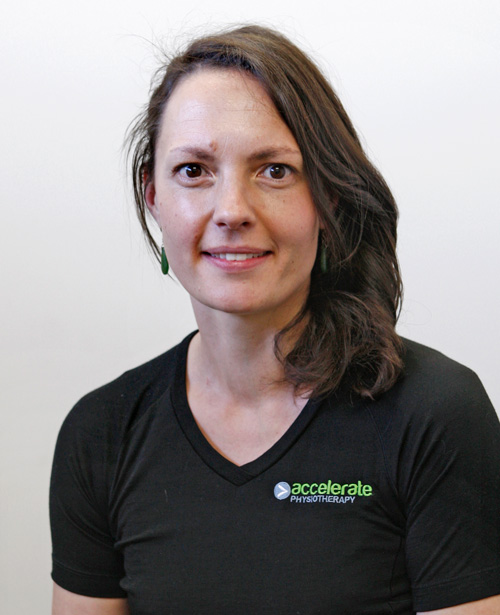 Bachelor of  Physiotherapy
Sarah graduated in 2007 from Otago University and worked in the hospital setting before moving to Western Australia. There she worked in private practice gaining experience and training in Pilates, dry needling, dynamic gait scanning and managing local football teams.
Since returning home to Invercargill Sarah has expanded her knowledge and experience in areas of neuro rehabilitation, pain management, exercise prescription for chronic health conditions and musculoskeletal Physiotherapy. She is passionate about helping others return to doing what they love.
Outside of work Sarah enjoys spending time with her three children planning adventures in the bush, snow or beach.
Bronwen started at Accelerate Physiotherapy as our part time receptionist in July 2019, and is loving greeting our new and existing clients. It is hard to miss her smile and effervescent personality. Bronwen has excellent skills with booking your appointment, answering your queries, and making you feel welcome.
Bronwen doesn't slow down outside of work. She has 2 young sons and enjoys watching them thrive in their respective sports. She also finds time to go to the gym herself.
Judy has been with the Practice over 18 years so has a good knowledge for answering your queries regarding ACC, Pilates Programmes including PINC Pilates and any other general questions you may have about booking appointments, fees etc. She has also completed a Nordic Walking Instructors Course!
She was awarded the 2015 Pride of Workmanship Award from The Rotary Club of Invercargill Sunrise for dedication and commitment to excellence in the workplace.
Judy enjoys aqua jogging, Nordic walking and loves a coffee or a nice wine with friends. She also enjoys seeing her 7 grandchildren and soon to be increased to eight!!!!