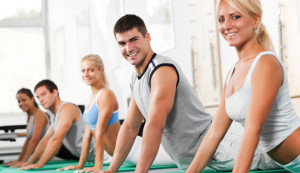 Since 2002, Accelerate Physiotherapy has led the way in bringing Pilates to Invercargill with a well equipped Pilates Studio. Moving into our new premises at 60 Deveron Street in January 2014, has allowed the Pilates part of the practice to grow. The Pilates Studio is situated upstairs where we currently run our 14 mat classes. We also do programmes, utilising the Pilates equipment, and run 2 equipment class downstairs in our gym.
Our physiotherapists teach and supervise exercises in a variety of postures and movements which replicate activity. This enables you to perform better in those activities.
All our therapists have undertaken extensive training and often use Pilates for physiotherapy rehabilitation, whether it is after injury or for maintenance of well-being.
What is Pilates?
Pilates (pronounced pih-lah-teez) is a gentle form of exercise designed for any level of fitness that was originally developed by Joseph Pilates in the early 20th Century. Clinical Pilates was developed by physiotherapists who recognised that not all Pilates exercises were suitable for those with injuries. It allows the client to develop an understanding of their problems, correct body movement and the skills to relearn correct function and allow a return to activities that may have been problematic.
It is especially effective for long term rehabilitation of recurring back pain.
Pilates optimises strength, flexibility and endurance to develop a strong and supple body. It is a holistic exercise that helps you achieve a leaner, healthier and more balanced body.
Each exercise is built around 8 basic principles and trains the small muscles that hold your spine in a safe position while you undertake normal activity.
This allows you to perform in recreation, sport or stressful activities with confidence.
Why do Pilates with a Physiotherapist?
Our Physiotherapists are trained in observing movement and understanding faulty movement patterns and possible underlying causes.
Pilates can provide a progression on from physiotherapy rehabilitation for your injury of pain and discomfort.
We have the skills to adapt and provide exercises to help with a safe return to activity and function.
Your individual needs are identified and accommodated for whether in a class or individual programme.
Exercises are progressed according to individual ability with an emphasis on control of pelvic and spinal stability with good alignment before end range flexibility.
Classes are small allowing for constant observation and analysis as well as feedback to improve your technique.
Who can benefit?
 Rehabilitation after injuries, especially low back, hip, shoulder and overuse problems
Anyone wishing to gain improved fitness, posture and appearance and core stability
Anyone wanting a low impact strengthening and stretching workout
Sports people who want advanced conditioning or rehabilitation after an injury
The elderly, including those with osteoporosis.
Post-natal women
Those with ME, fibromyalgia and other similar condition.
What we offer
Mat classes (limited to 10 people per class).
Equipment classes (maximum of 4 people per class)
Individual assessments and education.
Home programmes.
Private one-to-one sessions.
Pilates reformer, trapeze table and exo-chair equipment programmes.
Programmes with unlimited use of Accelerate Physiotherapy equipment.
PINC and Steel Pilates (for women and men recovering from cancer).