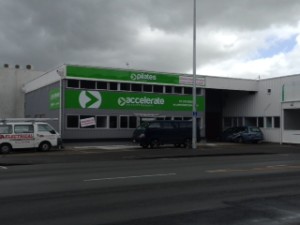 21 years ago when we shifted into our current clinic it was the first purpose designed building for a physiotherapy clinic in Invercargill and now it is time to expand and upgrade again.
This time we are shifting to 60 Deveron Street (just opposite the Batch Cafe) where we again have a purpose designed building to meet the current needs of a progressive physiotherapy clinic.
Our new reception area is large, bright and welcoming with our corporate colours also featuring. The clinic has 6 individual treatment rooms, a designated Pilates studio for mat classes, and a separate gym in which we will have Pilates studio equipment as well as a treadmill, exercycle, swiss ball, balance boards and weights.
We will now be able to offer Pilates classes in a spacious area with room for both clients and our Pilates trained physiotherapist who takes the classes. Because we see the importance of small class groups to maximise the gains you will get, classes continue to be small and numbers are limited especially when you are first learning. To access the Pilates mat studio you do need to be able to climb a flight of stairs, however we can cater for others in our gym area.
With the Pilates Studio equipment we will be able to offer reformer, trapeze table and exochair sessions and hope to introduce studio classes along with our individual programmes we currently run.
We welcome people to come and visit the clinic to see what we can offer and will be at 60 Deveron Street from Monday 27th January 2014.